Registration Information
Annual Seminar registrations are MEMBER and NON-MEMBER.   Please use the appropriate form according to registration type.
Vendors - Please contact

[email protected]

for registration
---
 Members need to use the Member registration form ONLY to receive the member registration rate of $375.  If you see any other rate, discontinue registering and make sure you are using the correct form. If the rate is still not $375, discontinue registering and contact [email protected] for assistance. 
---
 Non-Members that have attended a past seminar need to login to your existing account using your email address you registered with previously as that is your username.  If you forgot the email address you used or no longer have access to that email, please contact [email protected] for assistance.
Non-Members that have never attended a seminar will be required to create an account. 
Non-Member registration is $750.
---
Agencies sending multiple attendees will need to register each attendee individually with the appropriate form according to their membership status.  The most efficient way to achieve this is to allow each attendee to register themselves. If the agency wishes to pay for all the attendees at once, the registrant should choose "Invoice Me" in the payment options. The invoices will be consolidated and sent to the agency's financial contact. 
---
EVERY SEMINAR REGISTRATION FORM WILL HAVE A DEFAULT FIELD OF "SEMINAR ATTENDEE." THAT IS USED FOR ONLY ADMISTRATIVE PURPOSES. NO ACTION IS REQUIRED ON YOUR PART.
---
If you have any questions or concerns, please feel free to contact us at

[email protected]
Thank you for your participation in the AAPP and we'll see you at the seminar!
Harrah's Cherokee Casino Resort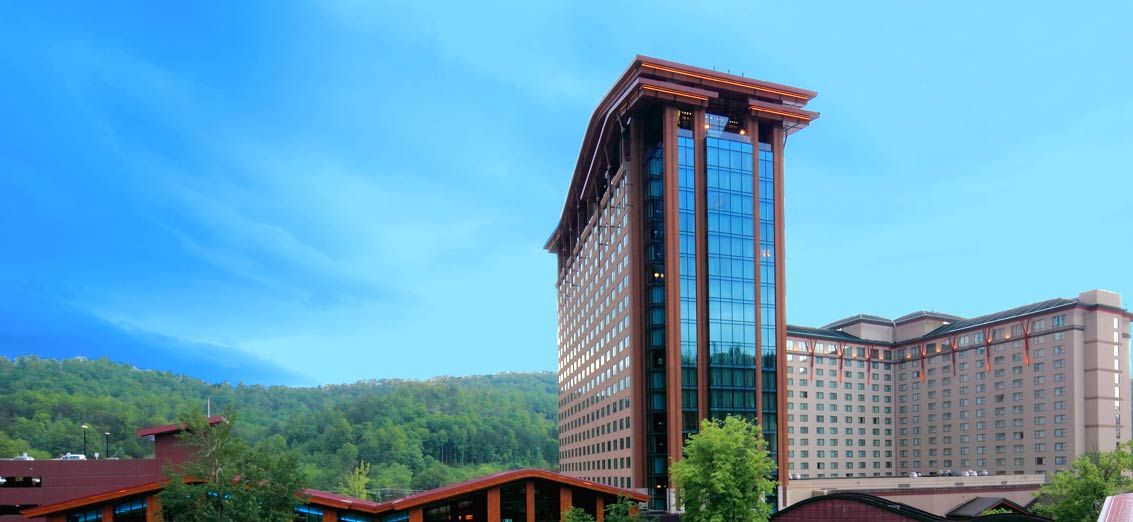 Where every hand is holding a very good time.
Arrowheads point to good luck, so follow them to Harrah's Cherokee Casino Resort. North Carolina's first casino, Harrah's promises an electrifying adventure that's bound to put a smile on your face and, if you're lucky, a bulge in your wallet.
A casino and luxury hotel combined.
Harrah's Casino is home to a 21-story, four-star, luxury hotel nestled in the beautiful mountains of Western North Carolina. The 1,108 spacious rooms include amenities such as large baths, upscale furniture and fixtures, and 42-inch HD plasma TVs. In addition to these amenities, guests have access to an arcade, indoor pool and workout room, as well as a 15,000-square-foot conference center and several delicious restaurants. Eight unforgettable suites are located in the Mountain Tower, 21 in the Soco Tower, and 78 in Creek Tower.
Bask in the earthly pleasures of Mandara Spa.
Inspired by elements of native culture and Balinese-influenced treatments, Mandara Spa brings casino guests the highest quality of therapeutic luxury. The Mandara brand emphasizes beauty, rejuvenation, and exotic indulgence, aiming to enhance each guest's resort experience by providing luscious opportunities for pampering.
Ease and enjoyment for all ages.
We know every moment of your time here is important so we provide convenient check-in and checkout kiosks in various locations throughout the hotel. Ask about our "Stay and Play Packages" to take advantage of every opportunity. If you are traveling with children, stay at the casino and let the kids explore the arcade while the adults hit the gaming tables, or take some time and enjoy outdoor activities like hiking, biking, tubing, and much more. Traveling with canine companions under 50 pounds? Ask about our PetStay room benefits.
More than just a casino: Harrah's Events Center and Conference Center
Harrah's Cherokee Casino Resort houses a new 3,000-seat events center where acts from Hank Williams, Jr. to Lady Antebellum have performed. This unique venue option features amphitheater seating on three levels for a variety of events and programs. The main floor can accommodate everything from a dinner for 800 to a tradeshow with more than 150 booths. The casino can also host groups and meetings ranging from ten to over 3,000 people in a state-of-the-art conference facility. The large meeting space can be broken down into 7 smaller configurations to suit any event or group needs.